Background and History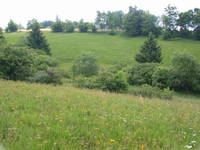 The kernel of the project is the IFBB technology (integrated generation of solid fuel and biogas from biomass), developed in the University of Kassel.

At the initial stage the IFBB concept was based on the idea to improve the efficiency and to avoid the negative effects of biogas production.

The basic technological design was developed with PP11 in the early 2000s and tested on laboratory scale up to the year 2008. It has been successfully up-scaled (to 1:20) between 2009 and 2011 in the forerunner project PROGRASS funded by the LIFE+ programme.
Since 2012 a first full-scale IFBB plant at the site of the PP6 in Baden Baden is in operation.

All the scientific and technological tests on the demonstration level showed the high efficiency and the environmental friendliness of the approach beyond the basic advantages like production of storable fuel and nature protection side effects.

On basis of the positive experiences the project partnership decided in 2010 to take the next development step and to transfer the technology on a larger scale.

In COMBINE the operation and investigation of pilot plants will take place on two levels:
A mobile demonstration pilot plant and
A first large scale sedentary pilot plant at the partner's site in Baden-Baden.

The mobile plant demonstrates the technology in every region of COMBINE and examines each region with its specific biomass. The sedentary plant enables the examination of large amounts of solid fuel.

The IFBB technology was also experimented in DANUBENERGY project, designed to promote the IFBB-technology and to prepare large-scale investments in the participating Central Europe regions.