28.05.2014 11:02 Age: 8 yrs
By: Colin Keyse

News of COMBINE progress eagerly received by delegates at Welsh Pollinator conference.
PP7 and PP5 Cwm Harry Land Trust and Severn Wye Energy Agency – Wales (UK).
---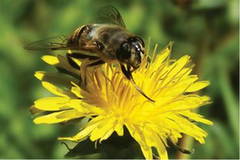 Speakers from two of COMBINE's UK partners were invited to present progress reports at a series of conferences sponsored by the Welsh Government. The Pollinator Action Plan was launched at the Royal Welsh Agricultural Show in July 2013 by the Minister for Natural Resources and Food, Alun Davies and a 'Pollinator Task Force' (PTF) was set up to plan a series of actions and responses.
The PTF organised two conferences in Cardiff (South Wales) and Bangor (North Wales), to discuss issues around the management of roadside verges as a strategic resource to support biodiversity enhancement in general and pollinators in particular. Delegates were particularly concerned about the need to deal with arisings if cut and collect mowing was to be adopted, so the presentations by Dr Rachel Smith (PP5) and Colin Keyse (PP7) were very well received. Combine flyers and binders were handed out at the meetings and further detailed questions put to the COMBINE representatives during workshop sessions. In all, over 90 representatives of highway authorities, environmental NGO's, Beekeeping Associations, local authorities and contractors attended and were given information. Additional information was available to delegates from representatives of the North and Mid Wales Trunk Road Agency, who are match-funding PP5 for the COMBINE project.
Following the Bangor conference, a request was made to schedule a further seminar on progress with COMBINE and the potential for the implementation of IFBB in Wales. This may be developed for Spring 2015, by which time it is hoped that much more solid progress will have been made towards having a workable proposal for a pilot plant in, or close to, Wales. The COMBINE presentations will be available to delegates via the Pollinator Task Force website and a summary will be included in briefings to Welsh Government Ministers.
Further information:
www.biodiversitywales.org.uk : Information on action plan for pollinators.
wales.gov.uk : Further information on the action plan.
Glastir : Wales' agri-environment scheme.
Discussion group: access restricted
---